Standalone Titles
Welcome to Sharon's stand-alone contemporary fiction page!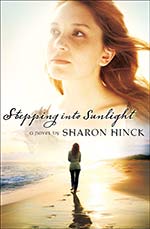 Stepping Into Sunlight – Available now from Bethany House Publishers
Visit the Penny's Project Blog
See Sharon's Harvest Show Interview
Penny Sullivan, a Navy chaplain's wife witnesses a violent crime and struggles with post traumatic stress while her husband is on his first deployment.
Far from family and friends, she fights to heal for the sake of her seven-year-old son, even though ordinary tasks take heroic efforts. She's haunted by flashbacks and is tormented by fear, so she designs a project to speed her recovery: doing one small, kind act for a different person each day.
REVIEWS & ENDORSEMENTS:
"Hinck, a 2008 Christy finalist for visionary fiction, offers an especially grounded tale of sudden trauma and slow healing.
Narrator Penny Sullivan witnesses a horrific crime shortly before her navy chaplain husband is deployed, so she is forced to cope alone with the psychological fallout from what she saw. Family issues from her past complicate her struggle and enhance its credibility. Strong Christian themes form a natural part of the narrative. Penny Sullivan's faith is shaken, and she wonders why God would appear to permit evil and whether her emotional turmoil can be healed.
A supporting cast of characters, from a nosy neighbor to the busy faithful servant to the downtrodden who heads a local mission, adds quirk and richness. Hinck is a mother of four, and it shows in authentic details in her characterization of the narrator's worried, loving seven-year-old son who gets his first pet in some cute comic relief. Hinck has done her homework on post-traumatic stress syndrome, and is not afraid to show readers that challenges can deepen faith."— Publisher's Weekly
In this uplifting novel set in Chesapeake, VA, Penny Sullivan is losing her grip after witnessing a traumatic event. . . Well written and compelling, this title will appeal to readers of Karen Kingsbury, Ann Tatlock, and Angela Elwell Hunt." — Library Journal
"Like Sharon Hinck's heroine, I, too, witnessed a crime. It's been years, but I relived every emotion along with Penny Sullivan. Told with humor and lump-in-the-throat insight, Stepping into Sunlight is a compelling story of learning to live again after trauma. This was my first Sharon Hinck novel, but it garnered her a permanent spot on my favorite authors list."– Deborah Raney, author of A Vow to Cherish and The Clayburn Novels series
"With emotional and spiritual honesty, Stepping into Sunlight chronicles the rebirth of faith and courage in a young woman traumatized by the unthinkable. Penny, Sharon Hinck's authentic and endearing heroine, is so convincing that I found myself, well, praying for her. That's compelling fiction! I laughed. I cried. I asked God a lot of questions. In the end, Hinck's concise yet poetic language ushered me into a worshipful place. Stepping into Sunlight definitely prospered my soul." – Patti Hill, author of The Queen of Sleepy Eye
—————————————————————————————————————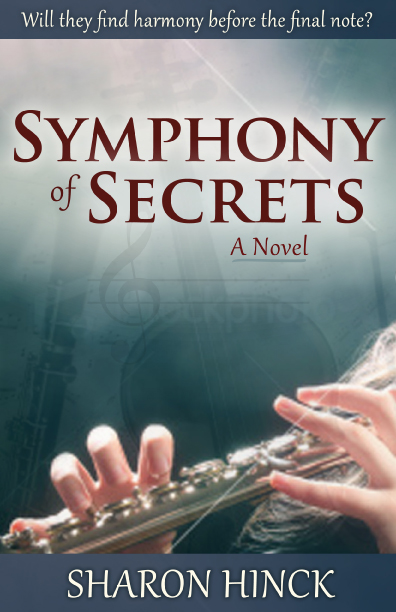 Symphony of Secrets – from Third Day Books

Talented flutist Amy Johnson's dreams come true when she wins a spot with the Minneapolis Symphony. But this armchair detective has trouble concentrating on the notes as she begins to see devious motives behind her fellow musicians' mishaps. Meanwhile, her musically talented daughter is forsaking the arts for cheerleading. Amy has to confront questions of faith, challenges of being the single mom of a teen daughter, and the secrets of her past – all while solving the mystery of the symphony before it's forced to close and she loses not only her dream job but her promising new relationship with its conductor.
ENDORSEMENTS:
"It's official—if the book says Sharon Hinck on the spine, I'm buying it! Symphony of Secrets hits just the right tone, weaving harmonies of mystery, family, and the life of a symphonic musician—a topic I've not experienced in fiction before. The melody is God's love, subtle yet persistent and so perfectly pitched that I'll be humming that tune for a long time to come. This is a great read and a perfect gift for anyone who finds joy in music." - Kathryn Mackel, author of Vanished
"What a delightful story! I fell in love with the characters on the first page and didn't want to let them go. If you love music, as I do, you'll especially enjoy this engaging tale of lost dreams and second chances. Like a Haydn serenade, your mind will dance along the story line at an engaging pace, allowing your imagination and sense of humor to absorb the melody of its plot. With Symphony of Secrets, Sharon Hinck makes beautiful music with her words!" - Mindy Starns Clark, author of The Million Dollar Mysteries series