Press Materials
AUTHOR INFO
Bio:
Sharon writes "stories for the hero in all of us," about ordinary people experiencing God's grace in unexpected ways. Known for their authenticity, emotional range, and spiritual depth, her novels include the humorous contemporary fiction, The Secret Life of Becky Miller (Bethany House, 2006), Renovating Becky Miller (Bethany House, 2007), and Symphony of Secrets (Bethany House, 2008), along with the standalone women's fiction Stepping into Sunlight (Bethany House, 2008), and the ground-breaking Sword of Lyric fantasy series (NavPress, 2007-2008) which include The Restorer, The Restorer's Son, and The Restorer's Journey, and The Restorer–Expanded Edition (Marcher Lord Press, 2011)
She was named 2007 "Writer of the Year" at Mount Hermon Christian Writer's Conference. Her debut novel, The Secret Life of Becky Miller was awarded second place in the 2007 ACFW Book of the Year – Lit Category. Renovating Becky Miller was named a finalist in the 2008 Audie Awards, Inspirational Fiction category. The Restorer was named a finalist in the 2008 Christy Awards, Visionary category. The Restorer's Son received a Carol Award in 2008, a 4.5 star recommendation from Romantic Times and a Reviewer's Choice award from Road to Romance reviews. The Restorer's Journey and Symphony of Secrets also won ACFW Carol Awards in 2009.
Sharon's undergrad degree is in education, and she earned an M.A. in Communication from Regent University in 1986. When she isn't wrestling with words, Sharon enjoys speaking to conferences, retreats, and church groups. She and her family make their home in Minnesota.
She's been featured in major media outlets including the Associated Press program Everything Sacred; television broadcast outlets KARE-TV, Mpls., WACT-TV, Atlanta; radio interviews for KTIS, CWAHM, KREJ, WWJC, WQFL, WGSL, WLBF; print features in Minnesota Christian Chronicle, St. Paul Pioneer Press, Alexandria, VA Gazette, and others; reviews in Romantic Times, Booklist, and Publisher's Weekly; and a wide range of online interviews, reviews, podcasts, and features including INFUZE magazine, Christian Women Online, and Novel Reviews.
Author Photos: (right click and select Save Image or Save Target to download)
---
BOOK INFO
The Sword of Lyric Series
Cover Art: (right click and select Save Image or Save Target to download)
For The Restorer
Stepping Into Sunlight
Cover Art: (right click and select Save Image or Save Target to download)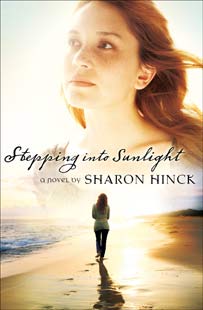 The Becky Miller Books
Cover Art: (right click and select Save Image or Save Target to download)
For Renovating Becky Miller
For The Secret Life of Becky Miller